23 November 2015, 10:52 GMT
MOSCOW (Sputnik), Svetlana Alexandrova — Germany has been sending hundreds of refugees back to Austria, the last point of transit, following a scandal involving men with a migrant background
sexually assaulting women
in several German cities.
Asked if Austria received any financial help from Germany in order to host additional refugees or planned to send the rejected asylum seekers to other EU member states, Interior Ministry spokesman Karl-Heinz Grundboeck said "no."
He added that expulsions of failed refugees by Germany were a technical issue, not enshrined in any bilateral agreement with Austria.
"It's not agreed, but [is] just a matter of fact that people who are not accepted to cross the border to Germany do stay in Austria," Grundboeck explained.
Emergency refugee shelters are being organized in Austria to host migrants who have been turned back by Germany, Karl-Heinz Grundboeck told Sputnik.
"Places for emergency accommodation are organized by the Red Cross, in Styria, Upper Austria, Salzburg and Tyrol," he continued.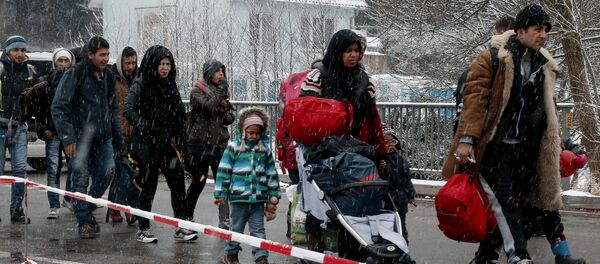 15 December 2015, 21:42 GMT
On Tuesday, Germany's Interior Minister Thomas de Maiziere said that German authorities would ease rules to make it easier to deport immigrants who commit crimes.
Germany has been sending hundreds of failed asylum seekers a day back to Austria since the start of the year.
The measure was deemed necessary after dozens of women in the German city of Cologne were robbed and sexually assaulted on New Year's Eve by groups of aggressive men, mostly of Arab and North African origin. Several similar incidents were reported the same day in Frankfurt, Dusseldorf and Berlin.