Andrew Smith, spokesperson for the Campaign Against Arms Trade (CAAT), confirmed that the group is preparing for legal action against the government, amid allegations Saudi forces are using British-made weapons to violate international law in its military campaign in Yemen.
​"For a long time now there have been serious allegations from very reputable sources that the Saudi air force and the Saudi military have been violating international humanitarian law in Yemen," Smith told Sputnik.
"UK arms have been central to this campaign in Yemen. We've seen UK fighter jets and UK bombs playing a leading role. We've seen political support for the action coming from the UK government. We want to stop arms sales to Saudi Arabia, we want to have licenses suspended for arms which… are being used to violate international humanitarian law."
The UK has come under significant scrutiny, both internationally and at home, over its failure to condemn the Saudi-led coalition's military offensive in Yemen, and its failure to halt the sale of arms to Riyadh, amid concerns British weapons are being directly used in the targeting of civilians.
"The bombardment of Yemen has killed thousands of people, has exacerbated the ongoing civil war and has created a humanitarian catastrophe," Smith said.
There have also been suggestions of greater British complicity in the Saudi-led campaign, with media reports alleging that some UK experts have been helping Saudi forces select specific targets in the bombing campaign.
While the claims that British complicity in selecting targets have been rejected by officials in London, the government confirmed that a small number of British forces were assisting the Saudi in trying to avoid breaches of international law.
Despite Saudi officials declaring that they are targeting Houthi rebel groups, more than 2,600 civilians have been killed in fighting since March last year, with the UN accusing the Saudi-led coalition for being responsible for two-thirds of the deaths.
"No matter how much we hear about the intricacies of targeted equipment, the so-called 'smart bombs' are anything but smart," Smith told Sputnik in reference to the number of civilian casualties.
14-Day Deadline Looms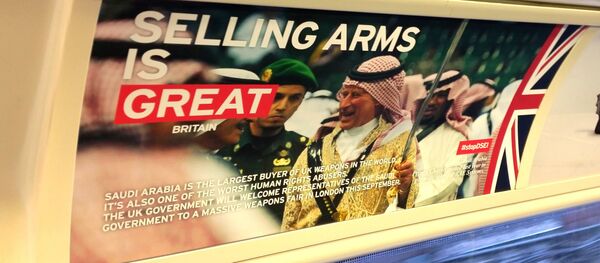 11 January 2016, 13:04 GMT
Earlier this week, lawyers representing CAAT sent a letter to the UK government, giving it 14 days to halt the sale of arms to Saudi Arabia or risk legal action.
Given the long history of cooperation between Saudi and British authorities, Mr Smith told Sputnik that he believes it is "very likely" the government will resist their call to suspend arms sales and the matter will go to court.
"For a long long time now the UK political establishment has supported Saudi Arabia. We've seen this for years and years," he said, adding that such a court case would be damaging for David Cameron's government.
"We're hoping for a different response, but if forty years of UK foreign policy is anything to go by, then we have to expect that the government is likely to try and resist it. But having said that, if this does go through court it could be very embarrassing for the UK government, so I think it's in their interest to get this sorted as soon as possible. But it's also in the moral interest of Yemen. The Saudi Arabian government is one of the most repressive government's in the world with a terrible humanitarian record."
As a result of the nine-month long military campaign in Yemen, and Riyadh's decision to kill 47 people in a mass execution earlier this month, there has been increased pressure on the government to review its relations with the Gulf kingdom.
"What else does Saudi Arabia have to do before the UK government thinks it has gone too far? How many more people need to be tortured, how many more people need to be killed before the UK government decides it's enough?" Smith told Sputnik.
CAAT officials have confirmed that should be government the continue with selling arms to Saudi Arabia beyond the January 25 deadline, then it will initiate legal proceedings in the UK High Court.