Austria has been overwhelmed by refugees flooding through from Hungary, Slovakia and Slovenia — all making for Germany, where Chancellor Angela Merkel famously declared its door open to refugees, precipitating the refugee crisis.
Vienna has been under more pressure, since Germany imposed controls along its border with Austria, sending more refugees back into the country, following protests from the President-Minister of Bavaria, Horst Seehofer, who said the southern German state could not cope with the influx.
Austria is seeking the support of Germany to send its own police into Slovenia and Croatia in an effort to check the flow of refugees arriving in Austria. According to Der Spiegel, the governments in Vienna, Ljubljana and Zagreb are in talks over the possible deployment of Austrian police on the Slovenian or Croatian border.
In particular, the governments are aiming to put more resources into checking for false documents — an issue that has gained importance following the November 13 Paris attacks, which exposed the ease with which the attackers were able to travel freely around Europe without being identified.
© AP Photo / Ronald Zak
Austrian soldiers stand next to rolls of fence at the border between Slovenian and Austria in Spielfeld, Austria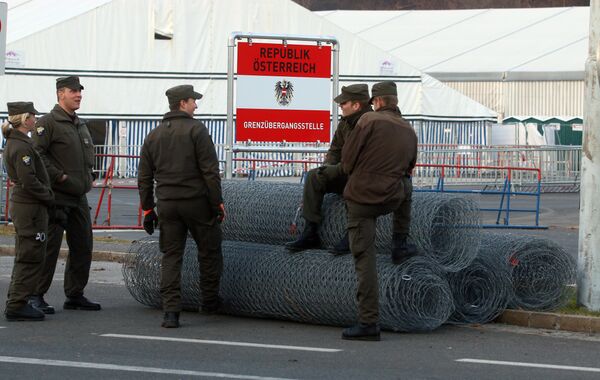 Austrian soldiers stand next to rolls of fence at the border between Slovenian and Austria in Spielfeld, Austria
Austrian Interior Minister Johanna Mikl-Leitner said she predicts other countries will follow.
"There is a domino effect from the north to the south. This is a good thing. We need a thrust reverser and must set the limits of refugees," she said.
Bordering on Chaos
Greece, Bulgaria, Macedonia, Hungary, Slovenia, Austria, Sweden, Denmark, Italy, Finland Austria and Germany itself have all imposed some form of border control — ranging from simply document checks to razor wire fences. 

7 January 2016, 16:28 GMT
Austria's latest move — and, in particular, it's plea for German support — is further evidence that one of the core principles of the European union — a borderless Europe — lies in tatters and that the refugee crisis — which began with Merkel opening its doors — is now out of control.
Merkel admitted this week that Europe was now "vulnerable" because it does not have the "order or control" of the situation. She warned that the euro single currency was "directly linked" to freedom of movement in Europe and if countries continued shutting their borders, the European single market would "suffer acutely."