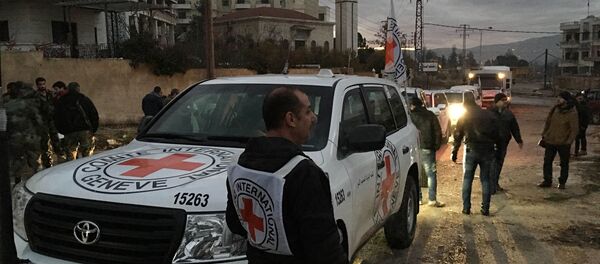 14 January 2016, 08:23 GMT
MOSCOW (Sputnik) — Russian air forces have been operating in Syria since September 30 at the request of President Bashar Assad whose army has been battling with radical Islamists and armed opposition groups for five years.
An informed source told Sputnik last weekend that the Syrian government had struck a deal with opposition to allow deliveries of humanitarian aid to the civilian population, who have been trapped for a long period of time.
Humanitarian mission
Russian General Staff head Sergei Rudskoi announced the launch of the humanitarian operation at a special briefing in the Russian Defense Ministry.
"A decision was made on opening a humanitarian operation by the Russian Armed Forces in the Syrian Arab Republic," Lt. Gen. Rudskoi told reporters.
The main bulk of humanitarian aid will go to the government-held city of Deir Ez-Zor in the northeast. Eastern Syria's largest city has been under the siege of Daesh militants for months after they cut all supply lines on land.
The Syrian government has been airlifting supplies to Deir Ez-Zor. According to Rudskoi, Syrian Air Force's military transport Il-76 helicopters have airdropped a total of 22 tons of humanitarian aid.
14 January 2016, 14:27 GMT
100 days later
On Friday, Russia summed up the results of its 100-day air campaign against radical Islamists in Syria, backed by warships from the Russian Caspian flotilla and a Rostov-on-Don diesel-electric submarine.
The Russian Aerospace Forces made over 5,600 combat sorties since the beginning of the air operation. A total of 97 guided missiles have been launched at Daesh assets from air and sea, according to Rudskoi.
The Syrian army has reclaimed 217 towns from Daesh, seizing back hundreds of square miles of land with the help of 10,500 militias from home-grown opposition groups that have joined Syrian army ranks.
Opposition steps in
Rudskoi said that fighters from "democratic Syrian opposition" have been on the offensive in the past few days, covering a distance of almost 70 miles and liberating four towns.
"Over the last months, cooperation has been established with patriotic opposition forces that provide the Russian aviation group with coordinates of militants in the combat zone," the general stressed.
The Russian military has been pinpointing every fifth Islamist target using data provided by opposition on the ground.