KIEV (Sputnik) — Malaysia Airlines Boeing 777 crashed over the Donetsk region in southeastern Ukraine on July 17, 2014, killing all 298 people on board. The Kiev government forces and local militia were fighting in the area at the time, and traded blame for the incident.
"The sides noted the progress in the joint investigation thanks to the hard work of investigators to reveal all circumstances of the crime and those involved in it. Prospects for further investigation and the need to extend the agreement on the work of the joint investigation team were also discussed," the press service said in a statement.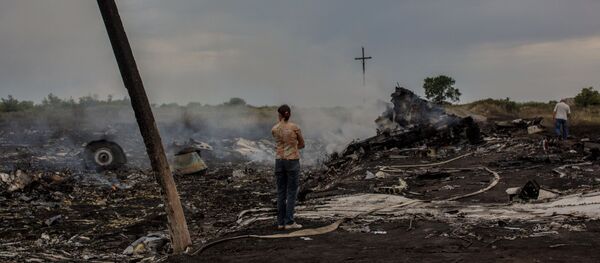 14 January 2016, 08:03 GMT
The statement added that Ukraine would contribute to the investigation "at all costs."
Earlier in the day, Fred Westerbeke, the chief investigator with the Dutch National Prosecutors' Office investigating the MH17 crash, met Ukrainian First Deputy Prosecutor General Yury Sevruk to discuss the investigation into the tragedy.
The Netherlands, Australia, Belgium, Ukraine, and Malaysia form the task force conducting a criminal investigation into the crash.