European Commission President Jean-Claude Juncker claimed that the European Union's currency, the euro, would make no sense without open borders provided for by the Schengen agreement.
The statement was originally made as a threat to countries which considered breaking off from the Schengen agreement, such as Austria, which suspended membership on Saturday. In an interview with Osterreich newspaper, Austrian Chancellor Werner Faymann echoed Juncker's words in a more serious manner.
"I hope that we will establish an effective protection of the EU's external border with reception centers and more equitable distribution in the EU, because otherwise in fact, the whole EU is put into question," Faymann told Austria's Osterreich newspaper on Saturday.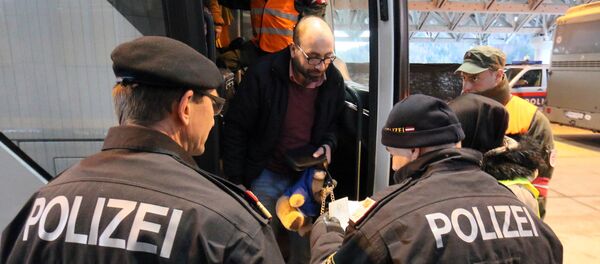 16 January 2016, 18:44 GMT
Spelling Doom With a Threat
Arguing using threats appears to be Juncker's forte, as he previously told Dutch citizens to consider themselves "European strategists" on EU's fate, when it comes to voting on Ukraine's association with the EU. In that argument, received negatively in the Netherlands, Juncker also asked to make the vote not a "vote on the EU."
Several currency unions exist around the world, particularly in Africa and the Caribbean without a corresponding open borders policy, but contribute to trade within the union. Such facts suggest that Juncker's words may have been an overstatement to scare leaders away from suspending Schengen.
"Without Schengen, free movement of workers, without freedom of European citizens to travel, the euro makes no sense," Juncker said on Friday.
With Juncker's words, it may become possible for threatening overstatements to become the harbinger of the EU's doom, as both pro-EU and Euroskeptic politicians bring the  arguments into the mainstream.
Austria's right-wing Euroskeptic Freedom Party (FPO) surged ahead in polls in the lead up to the border closings. The first round of Austria's presidential elections is scheduled for April 22.
The head of Italian right-wing Lega Nord party demanded on Monday that the country follows Austria's lead in suspending Schengen membership to deal with the refugee crisis.
Denmark and Sweden previously tightened border controls, although neither is a member of the Eurozone.