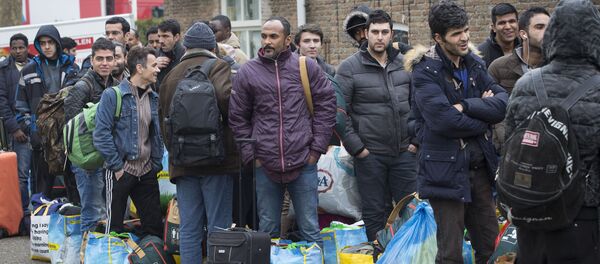 20 January 2016, 07:31 GMT
MOSCOW (Sputnik), Alexander Mosesov
–
On Monday, a massive anti-refugee rally took place in the small town of Heesch in the Netherlands over plans to construct a center to accommodate 500 asylum seekers in the town with a population of merely 12,500. About 1,000 people took to the streets, clashing with riot police afterwards.
"Dissatisfaction with the open door policy of the government is growing," Wilders, who is also the founder and chairman of the Party for Freedom (PVV), said.
According to Wilders, the migrants, who are "mostly young men from Islamic countries" cause many problems and cost the taxpayers millions and disrupt life in many villages and towns.
"Let it be very clear that I do not approve of the violence used during some of these protests, like in Heesch. But I do understand people who have had enough of it," Wilders said.
Dutch authorities ignore the wishes of the population to close the country's borders amid the massive refugee influx in the European Union, Geert Wilders said.
"Local governments ignore the wishes of the local inhabitants because the mayors are civil servants who work for the government instead of the local people," Wilders said.
According to Wilders, the Dutch people do not want a "huge camp full of testosterone bombs" in their neighborhood.
"If we allow the Dutch people to decide, our borders would be closed tomorrow," the politician added.
According to the Dutch authorities, a record 60,000 refugees sought asylum in the country in 2015, over two times more than in 2014.