"The Syrian Air Force destroyed 1,662 objects belonging to terrorist organizations in the areas of Damascus, Homs, Hama, Idlib, Aleppo, and Deir ez-Zor," reads a statement from the Syrian army command.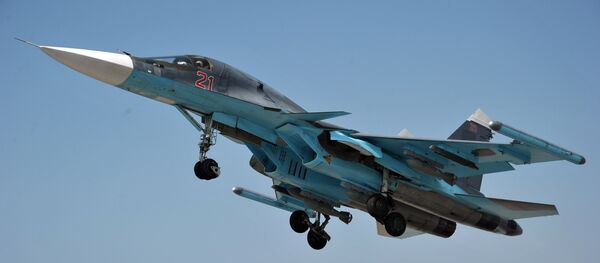 20 January 2016, 11:34 GMT
"From the 27th of the previous month [December] to the present day, 481 sorties have been carried out."
In Idlib, the air force eliminated the terrorist's command headquarters, as well as four command posts and an underground ammunition factory.
Three warehouses were destroyed in Aleppo, as well as a command post and dozens of SUV's outfitted with machine guns.
The Syrian Air Force has been working in conjunction with Russian operations, as well as in coordination with ground support from the Syrian Army. Over 15 villages have been liberated in Hama province.
A spokesman with the Syrian Army also confirms that large groups of terrorists are fleeing toward the Turkish and Jordanian borders.