KIEV (Sputnik) – Kiev argues Moscow is in breach of WTO principles and obligations with a food import embargo it imposed on January 1, the date when an EU-Ukraine free trade zone agreement came into effect.
"I asked Canada's support for Ukraine in the trade conflict with Russia," Jaresko wrote in a Facebook post after meeting Freeland at the World Economic Forum (WEF) in Davos.
Ukrainian Trade Representative Natalia Mykolska said this week Kiev was looking to initiate a dispute settlement on transit issues with Russia.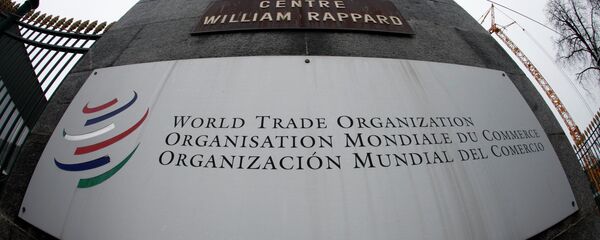 19 January 2016, 12:16 GMT
The WTO's dispute settlement body is scheduled to meet formally on February 26.
In a response measure, Ukraine banned certain Russian goods until August 5 or until Moscow lifts the food embargo.
Russia maintains an embargo on European agricultural products, which it fears may seep into the Russian market via Ukraine with the enforcement of the economic component of the EU-Ukraine Association Agreement. The embargo was introduced in response to anti-Russia sanctions imposed by the European Union over the Ukraine crisis.