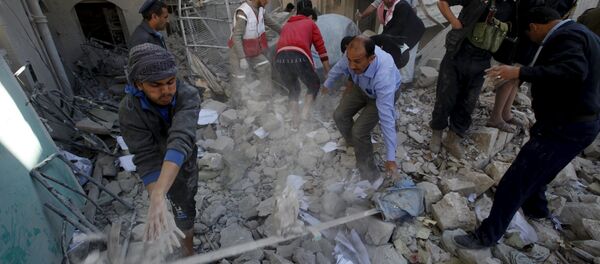 18 January 2016, 11:40 GMT
SANAA (Sputnik)
–
At least 10 people, including a local judge, were killed in a Saudi-led coalition airstrike on the Yemeni capital of Sanaa, a military source told Sputnik.
"The coalition planes launched airstrikes against the judge's house… The building was destroyed in the airstrike, the judge and his nine relatives died," the source said.
According to the source, another attack was carried out on a local bureau of forensic medicine.
Yemen has been engulfed in a military conflict between the government and Houthi rebels, the country's main opposition faction, for more than a year.
Since March, a Saudi-led coalition has been conducting airstrikes against Houthi positions at the request of Yemeni President Abd Rabbuh Mansour Hadi.
The coalition has repeatedly been accused of targeting civilians, as well as using banned munitions.