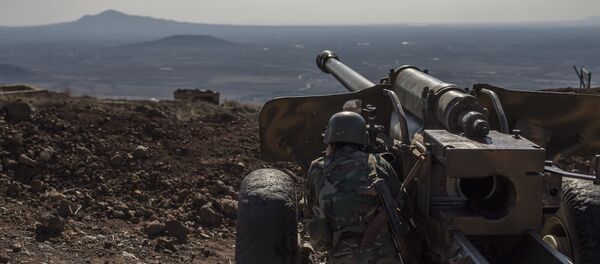 24 January 2016, 06:46 GMT
Dozens of
Daesh terrorists
were killed and many more wounded after
the Syrian army
and the National Defense Forces (NDF) foiled a spate of militants' attempts to seize hilltops overlooking a riverside area of the strategic town of Baqaliyeh, located in the eastern province of Deir ez-Zor, according to the Iranian news agency
FARS
.
Monday's developments came a few days after Syrian warplanes targeted Daesh strongholds  near at least six villages in Deir Ez-Zor, sources said.
Syrian Arab Army (SAA) soldiers
© Sputnik / Valeriy Melnikov
/
The jihadist group suffered heavy losses during the Syrian fighter jets' strikes on their positions near the villages of Ayyash, al-Janineh, al-Hassan, al-Baqaliyeh, Shaqra and Mhimideh.
"The Daesh strongholds near the villages were massively bombed by the Syrian warplanes, which claimed the lives of many terrorists and wounded many others," the army sources said.
Also on Monday, it was reported that the Syrian forces had liberated about 120 square kilometers (46 square miles) of the country's northwestern province of Latakia in two days.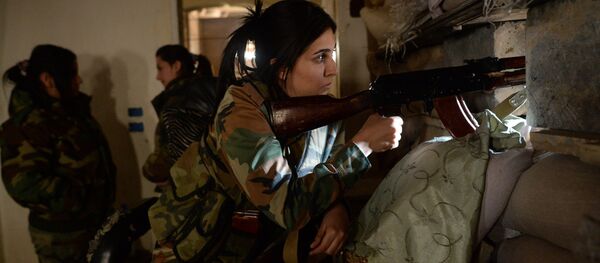 23 January 2016, 07:00 GMT
A large number of terrorists were killed in the fighting, and others fled towards the country's border with Turkey.
As for Deir ez-Zor, it was once controlled by Daesh, but now the Syrian army and the NDF, backed by Russian airstrikes, have left no safe place for the militants in the province.
Russia's air campaign in Syria was launched on September 30, when more than fifty Russian warplanes, including Su-24M, Su-25 and Su-34 jets, commenced precision airstrikes on Daesh targets in Syria at the behest of Syrian President Bashar Assad.