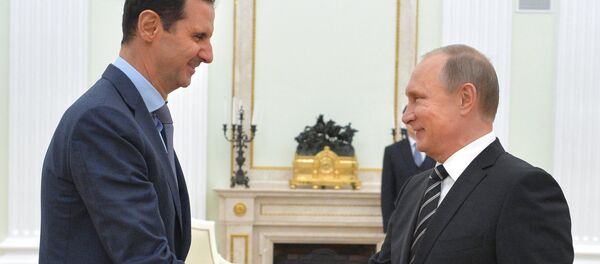 22 January 2016, 13:41 GMT
MOSCOW (Sputnik)
–
Russia did not try to convince Syrian President Bashar Assad to resign and did not promise him asylum, Russian Foreign Minister Sergei Lavrov said Tuesday.
"That's false. There was no need for such a conversation with President Assad," Lavrov said at his annual press conference in response to media reports that Moscow had allegedly suggested Assad step down.
Earlier this month, Russian President Vladimir Putin said that discussions of Assad receiving asylum in Russia were premature.
Syria has been mired in civil war since 2011, with Assad's government fighting numerous opposition factions and militant groups.
The West, as well as several Gulf states, has been calling for Assad's resignation and has been supporting groups in the country that aim to oust him.
Russia, on the other hand, has repeatedly said that only the Syrian people should determine the future of the country and its leadership. In December, Assad said he would "gladly resign" if he failed to receive popular support in the next election.