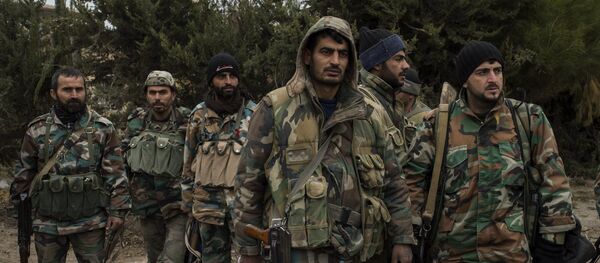 26 January 2016, 12:01 GMT
GHMAM (Syria) (Sputnik)
–
The ceremony took place in the mountainous village of Ghmam, 30 miles northeast of Latakia, where militants shelled the regional center. Ghmam lies on the central road that leads to the Turkish border, the city of Jisr al-Shugur and further to major cities of Idlib and Aleppo.
Ayman Jaber, commander of a subdivision included in the Desert Falcons, thanked his soldiers and dedicated the award to one of the deceased Russian pilots whose attack aircraft was shot down by Turkey in November.
"We remember the heroic death of Lt.Col. Oleg Peshkov. That is why we tasked the best 'Falcons' detachment with clearing the mountain and destroying the terrorists who killed him," Jaber said.
He thanked Russia for providing air support in the liberation of Latakia and expressed his sympathies to Peshkov's family and the Russian people for their sacrifice.
The Desert Falcons ("Suqur al-Sahra" in Arabic) were formed in the early days of the Syrian civil war by retired Col. Mohammad Jaber. They are estimated to include up to 5,000 volunteers fighting alongside the Syrian Army.