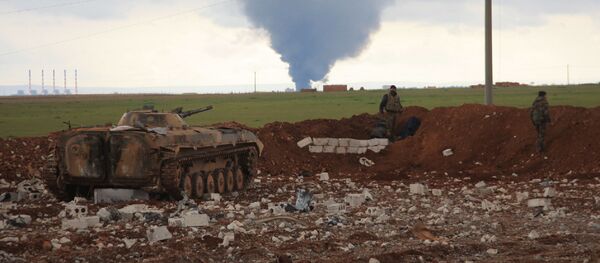 26 January 2016, 05:57 GMT
DAMASCUS (Sputnik)
–
Syrian government forces have consolidated their positions and liberated the southern town of Sheikh Maskin in the Daraa Governorate from terrorist groups, a military source said Tuesday.
"This morning, our forces strengthened their positions throughout the city. At present, Sheikh Miskin can be considered fully under control of the army," the source told RIA Novosti.
Overnight, government storm troops took control of the town's entire perimeter, cutting off all terrorist supply routes. The army began to clear districts where militants had sought cover, the source explained.
Combat engineers, whose task is to clear key roads and buildings of explosive devices, worked alongside special army units in the operation, he added.
Dozens of militants were killed and numerous cars mounted with machine guns, homemade rocket launchers were destroyed in the course of the assault, the source noted.
Syria has been in a state of civil war since 2011, with the country's government fighting a number of opposition factions and radical Islamist groups, including the jihadist group Daesh, which is outlawed in Russia.