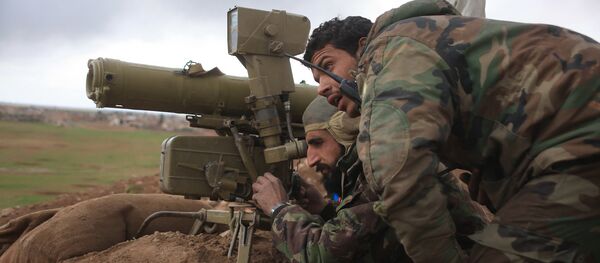 25 January 2016, 14:37 GMT
A strategic district northwest of Kweiris Airbase in Aleppo Province has been liberated by
the Syrian Army
and the National Defense Forces (NDF) from
Daesh militants
, according to media reports. Several terrorists were reportedly killed or wounded in the attack.
"Pro-government troops set the Arbid Al-Judaydah district free following several hours of heavy fighting in the region," the Iranian news agency FARS quoted the source as saying.
© Sputnik / Mikhail Voskresenskiy
 / Go to the mediabank
Syrian Arab Army soldiers on Kuweiris air facility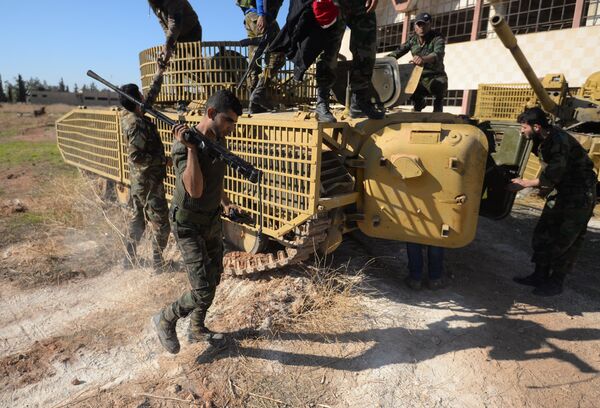 Syrian Arab Army soldiers on Kuweiris air facility
© Sputnik / Mikhail Voskresenskiy
/
The liberation of the district came after the Syrian troops and the NDF liberated the strategic villages of Qatar and Tal Hattabat located to the north of Kweiris Airbase late last week.
Meanwhile, retired Lebanese Brigadier General Ali Maqsoud has said that the Syrian Army is due to stage a massive attack on al-Nusra Front militants in the coming days in order to break the siege of the Shiite-populated towns of al-Zahra and Nubl in northwestern Aleppo.
The towns have been surrounded by terrorists for years, and the civilian population has been besieged and starving there for at least several months.
"All terrorist groups that are targeting the towns of Nubl and al-Zahra will experience a defeat similar to the defeat they faced at Kweiris Airbase in Aleppo Province," Ali Maqsoud was quoted by FARS as saying.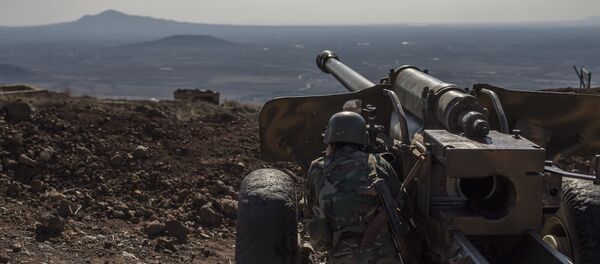 24 January 2016, 06:46 GMT
Adding to the Syrian Army's anti-terror effort is Russia's ongoing air campaign in Syria, which was launched on September 30, when more than fifty Russian warplanes, including Su-24M, Su-25 and Su-34 jets, commenced precision airstrikes on Daesh targets in the country at the behest of Syrian President Bashar Assad.
The Russian General Staff said on Monday that combat aircraft from the Russian air group in Syria have carried out 169 sorties in the last three days, hitting more than 480 terrorist targets. The statement came as dozens of Daesh terrorists were killed and many more wounded after the Syrian Army repelled a spate of militants' attempts to seize hilltops located near the strategic town of Baqaliyeh in the eastern province of Deir ez-Zor.