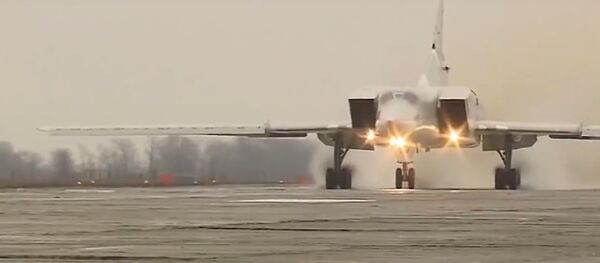 25 January 2016, 16:29 GMT
WASHINGTON (Sputnik) — The US-led coalition against the Islamic State (ISIL), also known as Daesh, conducted 18 airstrikes in Syria and Iraq resulting in the destruction of 20 terrorist infrastructure targets, the US Central Command (CENTCOM) said in a press release on Tuesday.
"In Syria, coalition military forces conducted three strikes using attack and remotely piloted aircraft," CENTCOM stated. "Separately in Iraq, coalition military forces conducted 15 strikes coordinated with and in support of the Government of Iraq using attack, fighter, and remotely piloted aircraft against ISIL [Islamic State] targets."
Airstrikes near three Syrian cities, Hawl, Raqqa and Mara, carried out on Monday, destroyed Daesh cranes, tactical units and a headquarters building, according to the press release.

25 January 2016, 14:36 GMT
The coalition conducted 15 airstrikes near six Iraqi cities on January 25 to the north and west of Baghdad, including Mosul, Ramadi and Sinjar. The strikes destroyed multiple Daesh tactical units and fighting positions, as well as other infrastructure, such as a weapons storage facility and weapons cache.
The Islamic State, also known as Daesh, is a terrorist group outlawed in many countries around the world including the United States and Russia; it has seized large areas in Syria and Iraq and declared a caliphate on territories under its control.