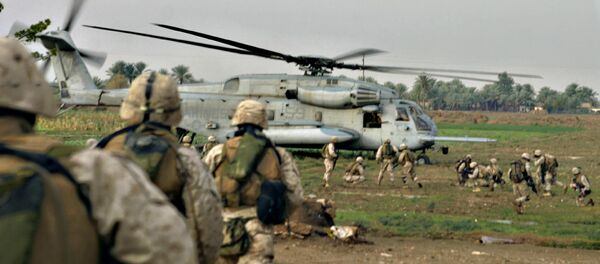 21 January 2016, 16:36 GMT
WASHINGTON (Sputnik) — US Secretary of Defense Ashton Carter is prepared to ask for additional troops in Iraq if additional actions need to be undertaken against the Islamic State terror group, US Department of Defense spokesperson Peter Cook told reporters on Wednesday.
"We're about 3,700 US troops right now in Iraq and that's the level right now that the Secretary [Carter] feels is the appropriate level and if he feels like he needs to request more than he's prepared to do that," Cook stated during a press briefing.
Cook noted that a proposal to send more troops to Iraq was not yet on the table, and would ultimately depend on the "circumstances going forward" as well as if "unique capabilities" would be needed to be brought into the fight against Daesh.
In December 2015, Carter announced that Washington would send a special expeditionary targeting force to Iraq to assist Kurdish forces fight the Islamic State. Carter made the announcement after President Barack Obama said earlier that he would deploy some 450 more troops to Iraq over the summer.
In recent months, Carter as well as other current or former officials have urged the Obama administration to send more US troops to Iraq and Syria to strengthen the efforts to defeat the Islamic State. Obama has previously vowed not send additional US ground troops to the region.
The Islamic State, also known as Daesh, is a designated terrorist group that is outlawed in the United States and Russia as well as in numerous other countries.