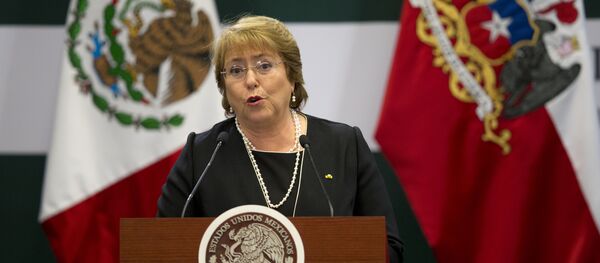 16 November 2015, 11:13 GMT
MOSCOW (Sputnik)
–
According to the La Jornada en Linea newspaper, the sum will be divided between the families of four people who were disappeared by the authorities and died in 1973 and 1974.
Most of the compensation, or nearly $1 million, will be paid to the families of Miguel Rojas and Gilberto Rojas, who were arrested in October 1973 near the town of Parral, a month after Pinochet installed his dictatorship. In the cases of the other two victims, who were detained and subsequently disappeared in 1974, the authorities must pay $272,000 and $16,000 respectively to their families, according to the media outlet.
Pinochet led a military coup in Chile in September 1973, introducing a totalitarian regime that remained in place until 1990. During Pinochet's rule nearly 3,200 people are estimated to have been killed for political reasons, about 1,200 people went missing and over 28,000 were subjected to torture.
After Pinochet's resignation, international criminal proceedings were instituted against him, however, the former dictator died in 2006.