BELGRADE (Sputnik) — The talks between the leaders of Serbia and Kosovo are scheduled to be held with the mediation of the European Union in Brussels later in the day. The meeting between Serbian Prime Minister Aleksandar Vucic and Kosovar Prime Minister Isa Mustafa is due to take place with the facilitation of EU foreign policy chief Federica Mogherini.
"Within the last seven or eight months we have not seen any signs that Pristina implements the agreements reached [on the establishment of the Association of Serbian municipalities], and our efforts will be focused on that issue," Djuric said.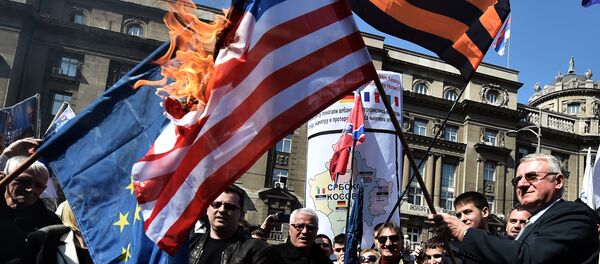 25 January 2016, 16:55 GMT
Kosovo declared independence from Serbia in February 2008. Dozens of countries, including Russia and Spain, do not recognize Kosovo as an independent state, and Serbia considers Kosovo to be part of its territory. In March 2011, Pristina and Belgrade launched EU-facilitated reconciliation talks.
In 2013, Belgrade and Pristina signed an agreement on the establishment of the Association of Serbian municipalities in Kosovo and Metohija. The agreement stipulates that the association will have rights on self-government, own flag and other characteristics of an autonomy.
The charter of the association was due to be adopted on December 2015, but it is still unfinished due to the delay caused by the Constitutional Court's judicial scrutiny.