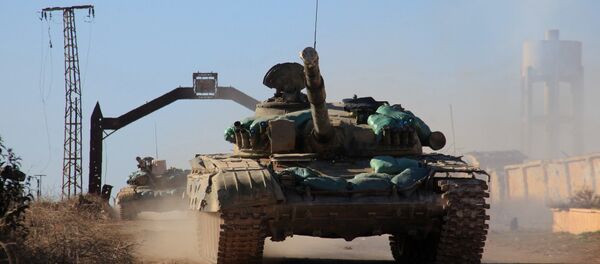 4 February 2016, 05:54 GMT
The Syrian Army and the National Defense Forces (NDF) have managed to cut off several main supply lines of
Al-Nusra Front militants
in the town of Mayer located between the city of Aleppo and the country's border with Turkey in northern Aleppo Province, according to media reports.
Also, the Syrian troops took captive at least three terrorists near the town of Maarasta al-Khan in the northwestern part of Aleppo Province, sources said.
© AP Photo / SANA
Syrian government troops walk inside the key town of Salma in Latakia province, Syria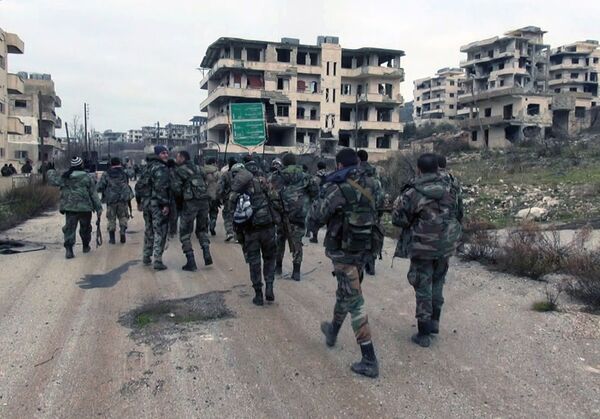 Syrian government troops walk inside the key town of Salma in Latakia province, Syria
In another development on Thursday, the Kurdish People's Protection Units (YPG) managed to liberate two villages in the northwestern parts of Nubl and al-Zahra, driving Al-Nusra Front terrorists out of the area, according to the Iranian news agency FARS.
Also on Thursday, tens of Daesh militants were reportedly killed and many more wounded after Syrian troops and the NDF cracked down on the terrorists' strongholds in the village of Jab al-Kol in the southeastern part of the town of Tal Maksour in Aleppo.
According to sources, military operations are still under way on the eastern outskirts of Aleppo near Kuweires Airport, where the army is tasked with clearing the area of militants.
Earlier, it was reported that Syrian Army fighter jets had pounded Daesh militants' positions in the countryside and within the city of Aleppo.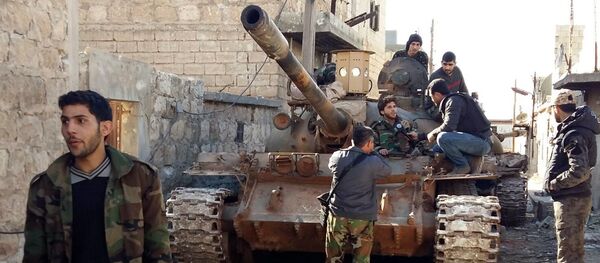 3 February 2016, 05:53 GMT
Adding to the Syrian Army's anti-terror effort is Russia's ongoing air campaign in Syria, which was launched on September 30, when more than fifty Russian warplanes, including Su-24M, Su-25 and Su-34 jets, commenced precision airstrikes on Daesh and Al-Nusra Front targets in Syria at the behest of Syrian President Bashar Assad.
In addition, the Russian Defense Ministry confirmed earlier this month that advanced, super-maneuverable Su-35S multi-role fighters had begun their combat mission in Syria.