8 February 2016, 08:41 GMT
Fierce clashes have broken out between militants of Daesh and the al-Nusra Front terrorist group near the Syrian-Lebanese border. Both sides are sustaining casualties, a source close to Hezbollah told
RIA Novosti
on Monday.
"Clashes resumed between Daesh and al-Nusra Front militants at the ad-Deb Valley in the mountainous region of Arsal," the source said.
In late-January, Daesh terrorists seized an al-Nusra military camp and captured six militants.
According to the source, meanwhile in Damascus suburbs the Syrian Army alongside the National Defense Forces (NDF) are engaged in fighting against militant groups in the districts of Marj and Fadaya.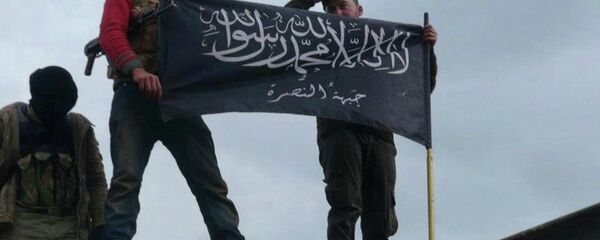 6 January 2016, 14:45 GMT
Clashes also resumed in northern Aleppo province, north of al-Zahraa, where the army used artillery to repel an al-Nusra attack.
In early-January, Iranian news agency FARS reported that Daesh attacked al-Nusra positions in the province of Daraa, having killed a dozen militants.
Syria has been engulfed in a civil war since 2011, with the government army fighting opposition factions and terrorist groups, such as Daesh (also known as ISIL/Islamic State) and the al-Nusra Front. According to the UN, the conflict claimed lives of nearly 200,000 people. Over one million became refugees.