MUNICH (Sputnik) – Earlier, Russian Foreign Ministry spokeswoman Maria Zakharova told RIA Novosti that the talks in Munich, which had lasted for over four hours, ended.
The ISSG was formed in November shortly after the beginning of the Syria peace talks in Vienna as an international format aiming to resolve the internal crisis in Syria, where a civil war has been ongoing since 2011.
Russian Foreign Minister Sergei Lavrov, US Secretary of State John Kerry and UN Special Envoy for Syria Staffan de Mistura are expected to give a news briefing after the Thursday ISSG talks.
A source in the German delegation told RIA Novosti that a final communique would be presented at the conclusion of the talks.
Russian Foreign Ministry spokeswoman Maria Zakharova later confirmed that a final communique had been finalized by the participants in the talks.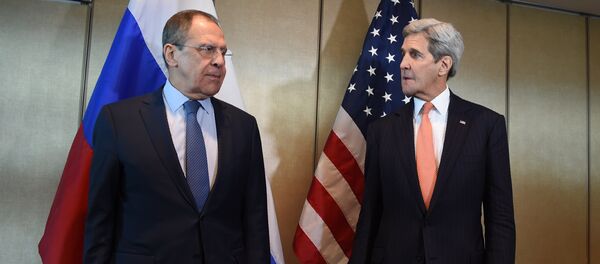 11 February 2016, 23:59 GMT
Participants in the Thursday ISSG talks are discussing ways to resolve the Syrian crisis, implement a general cessation of hostilities in Syria and find solutions to humanitarian problems in the country. The issue of reviving peace talks between the government of Syria and the opposition is also under discussion.
On December 18, the UN Security Council adopted resolution 2254, reaffirming the goals of the previous Vienna deals to bring the entire spectrum of political groups in the crisis-torn country to the negotiating table.
UN Special Envoy for Syria Staffan de Mistura said less than a week after the launch of intra-Syrian negotiations that the talks in Geneva would be temporarily suspended until February 25.