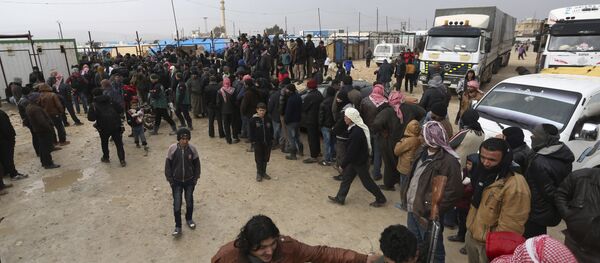 11 February 2016, 08:34 GMT
MOSCOW (Sputnik) — The report says that during its aerial campaign in Syria, Moscow has significantly increased its military capacity in the Middle East country, both in aviation and in air defense capabilities.
"With such an extensive presence, Russia will be able to obstruct the war efforts of those opposed to Syrian President Bashar Assad. The United States and its allies can still fly airstrikes against the Islamic State, but the prospect of changing targets to include loyalist forces advancing on rebel positions is greatly hindered by active Russian air support," the report released on Wednesday said.
The report added that Turkey and Saudi Arabia had long sought to oust the Assad government, but any attempt to unilaterally support the rebels with their own air assets would be met with significant Russian air defenses at the moment.
According to Stratfor, Washington had no desire to escalate tensions with Moscow, because it wants to focus on the anti-Daesh fight.
Russian Aerospace Forces commenced anti-Daesh precision airstrikes in Syria, a group that is outlawed in Russia and a range of other countries, on September 30, following a request from Assad.
The US-led coalition of some 60 nations, including both Turkey and Saudi Arabia among others, has been launching airstrikes against the Daesh in Syria and Iraq since 2014. However, the operation in Syria is conducted without the approval of the UN Security Council or Syrian authorities.