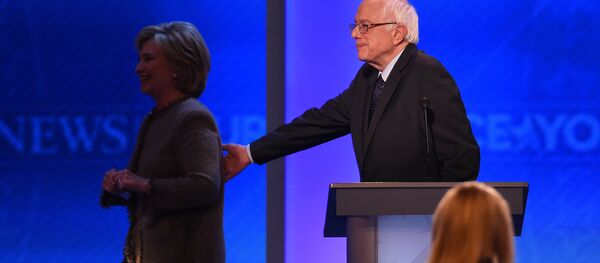 11 February 2016, 01:48 GMT
WASHINGTON (Sputnik) — Democratic presidential candidate Hillary Clinton is using $500,000 contributed by Wall Street institutions to purchase attack advertisements in the South Carolina primary contest, US Senator Bernie Sanders' campaign said in a press release.
"Hillary Clinton's super PAC [political action committee], Priorities USA Action, will be spending at least half a million dollars in paid advertising in the South Carolina Democratic primary," the release noted.
In the latest reporting period, Priorities USA Action reported that it received $15 million in donations from financial industry interests, which equates to 60 percent of all donations.
"Doesn't the Clinton campaign have the funds to run its own ads without resorting to its super PAC, which is funded by the very people Secretary Clinton has promised to take on?" Sanders campaign manager Jeff Weaver stated in the release.
Weaver added it is unfortunate that the largest pro-Clinton super PAC has decided to "infect the Democratic primary process with its haul of Wall Street cash."
The move was the first time that one of the pro-Clinton super PACs has purchased paid broadcast advertising. Priorities USA Action had previously said it would only deploy its millions in funds for the general election against Republicans, the press release pointed out.