Republican candidates for the US presidency argued with one another Saturday evening over the legacy of George W. Bush, who invaded Iraq in 2003.
"I want to tell you. They lied. They said there were weapons of mass destruction, and there were none. And they knew there were none. There were no weapons of mass destruction!" chided Donald Trump at the 9th Republican debate.
Trump was speaking about George W. Bush's justification for invading Iraq in 2003. The real estate mogul was attacking George W. to make his brother, Jeb Bush, who was on stage in the debate, look bad. 
However, unlike other debates Jeb came out looking the stronger. Trump didn't have the audience support that he normally does. He was booed while Jeb was praised and applauded. 
WYFF News in South Carolina, where the debate was held, revealed that tickets to the event were largely allocated to people associated with the Republican establishment rather than by a simple lottery as usual. This may have accounted for why there was so much resentment towards Trump.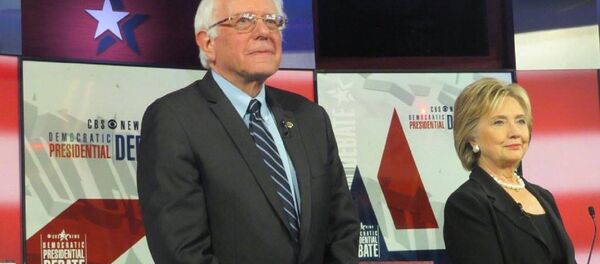 13 February 2016, 00:24 GMT
"So here's the deal. I'm sick and tired of Barack Obama blaming my brother for all of the problems that he's had. And frankly, I could care less about the insults that Donald Trump gives to me. It's blood sport for him, and he enjoys it, and I'm glad he's happy about it. But I am sick and tired of him going after my family. My dad is the greatest man alive in my mind," said Jeb following Trump's attack. 
"While Donald Trump was building a reality TV show, my brother was creating a security apparatus to keep us safe, and I'm proud of what he did," he added. 
Like two children fighting, Trump retorted, "The World Trade Center came down during your brother's reign. Remember that." At which point a howl of booing came from the audience.  
But the exchange didn't end there. 
"He's had the gall to go after my mother…. Look I won the lottery when I was born 63 years ago, looked up, and I saw my mom. My mom is the strongest woman I know," said Jeb. 
Trump leaned quickly into the microphone and quipped, "She should be running." 
Senators Ted Cruz and Marco Rubio, along with Ben Carson and Governor John Kasich were on stage as well. But Bush and Trump stole the show. The South Carolina Republican presidential primary will be held on Saturday, February 20. According to polling data, Donald Trump is favored to win.