MOSCOW (Sputnik) – Turkey's shelling Syrian territory is outragious, Russian Foreign Ministry spokeswoman Maria Zakharova said Wednesday.
"What's going on on the Turkish-Syrian border is a sheer outrage. Turkey is shelling populous areas over the border, sending money, people, and material technical support in the conditions of signing and accepting the Munich statements of the International Support Syria Group," Zakharova said on RT television station.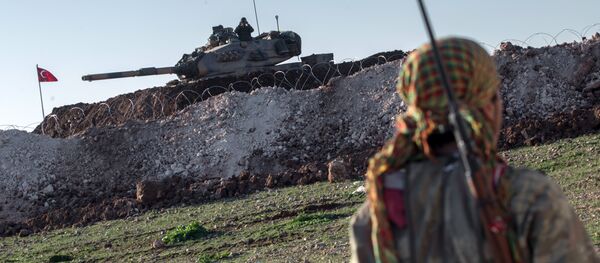 16 February 2016, 22:44 GMT
"This is simply because [Turkey] can't stand the fact that these regions are being freed from terrorists and extremists, those whom they fostered for a long time and supported for a long time," she stressed.
On Tuesday, Turkey continued its fourth straight day of shelling Kurdish YPG positions across the Turkish-Syrian border. Ankara claims that Syrian Kurds have links to the Kurdistan Workers' Party (PKK), which fights for the independence of Kurdistan from Turkey.
Syria's Foreign Ministry branded the shelling as direct support of the terrorists. The United States has also condemned the attacks on Kurdish YPG, which have been important allies in the fight against Daesh in Syria.