According to classified documents, it all started back in 2006 right after Morales was elected as the President of Bolivia.
"There were cables from that period that clearly indicate that the United States was trying to practically blackmail Evo Morales into changing Bolivia's economic policies," Vold told Radio Sputnik.
When Morales sought to nationalize Bolivia's petroleum resources, the US government threatened Morales in private telling him that it would cut the financing of Bolivia by influencing policies of the Inter-American Development Bank (IDB) and the World Bank.
When Morales refused to give in, the US government began financing Bolivian opposition groups, which sought to overthrow the national government.
"The first document we have about that is from 2007 when they [the US government] supported separatist groups with $4 million with the expressed intention of strengthening them against the national government," Vold told Radio Sputnik.
The Norwegian journalist also said that the US government knew about the plans of separatist movements in the Half Moon region. The separatists wanted to blow up pipelines and resort to other violent measures in an attempt to force the government of Morales to recognize their demands.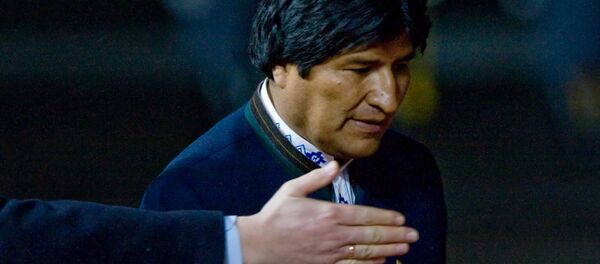 22 February 2016, 05:41 GMT
Meanwhile, Morales might be on the verge of losing the Sunday referendum on his bid to seek a fourth consecutive presidential term, according to the preliminary results of the vote published Monday.
Over 87 percent of the estimated 6.5 million eligible voters participated in the referendum.
The Bolivian constitution allows the president to hold office only for two consecutive terms, but in 2013, the Bolivian Constitutional Court ruled that Morales had a right to run for the third term.