WASHINGTON (Sputnik) – On Tuesday, the Obama administration laid out a plan to close the notorious detention center at Guantanamo Bay, because it is too expensive and had become an extremist recruiting tool. The Pentagon announced that it has identified 13 potential facilities within the United States where the remaining detainees could be relocated.
"I looked into this with my colleague Tom Wilner, the US attorney that represented the [Guantanamo] prisoners in their habeas [corpus] cases in the Supreme Court," Worthington told Sputnik on Tuesday.
"[T]here is no way you can prevent these people [from] having rights under the US constitution they simply haven't had at Guantanamo," Worthington added.
Habeas corpus is a right protected by the US Constitution that allows individuals to legally challenge their detention or false imprisonment.
"I don't think that there is any precedent for holding people without charge or trial on US soil," Worthington noted.
Obama's plan to close Guantanamo and potentially transfer remaining detainees to US prisons has been met with stiff resistance by several state governors and congressional leaders.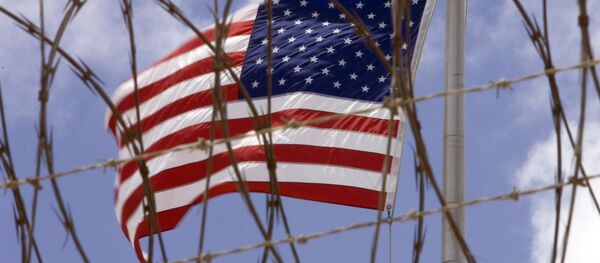 23 February 2016, 19:03 GMT
Worthington explained that the attacks on September 11, 2011 and the war on terror provided the US government with the pretext to hold suspects in Guantanamo and strip them of any due process rights.
"Because the bottom of it is… you're either a prisoner of war or a criminal suspect," Worthington underlined.
Other categories such as "enemy combatant" are nonsense, he argued, which allow the US government to "hold people indefinitely without charge."
Worthington added that if President Obama truly wanted to close Guantanamo before his term is up he needrf to accelerate the Periodic Review Boards that review prisoner cases and determine if they are fit to leave or deemed "too dangerous" and a threat to national security.
"It has taken [the United States] two years for these 21 [reviews] to take place and there are twice as many that need to take place in less than a year," he said. "So those need speeding up massively."
The Periodic Review Boards have approved 18 prisoners for release out of the 21 cases reviewed, which is an 86 percent success rate, Worthington claimed.
UN Human Rights Chief Zeid Ra'ad al-Hussein said in a statement on Tuesday that "all Guantanamo detainees should either be transferred to regular detention centers in the US mainland or other countries where fair trials before civilian courts and due process guarantees can be provided."
Officials in the Obama administration have said about ten detainees out of remaining 91 are too dangerous to ever be released.
US Congress has banned the transfer of Gitmo prisoners to US prisons since 2011. US House Speaker Paul Ryan said lawmakers would prepare legal options to ensure Obama is not able to realize his plan to shut down Guantanamo.