UNITED NATIONS (Sputnik) — The 15-member Council held a vote following a report on the situation in Syria by UN Special Envoy for Syria Staffan de Mistura.
The resolution urges all parties to commit to the cessation of hostilities, which is set to begin at midnight Damascus time on February 27 (22:00 GMT February 26), and reiterates a call to allow humanitarian aid access to all blockaded areas in Syria.
On Monday, the United States and Russia, the co-chairs of the International Syria Support Group (ISSG), announced a plan for a ceasefire between the government forces and armed opposition groups in Syria. The deal excludes the Islamic State (Daesh) and al-Nusra Front terrorist groups.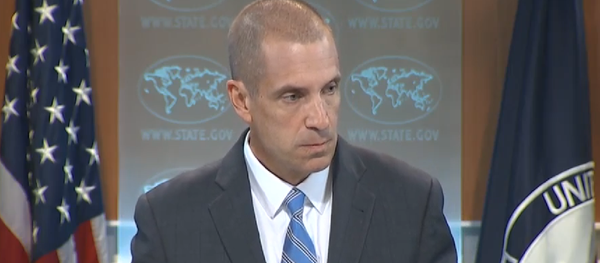 26 February 2016, 19:40 GMT
The Syrian government has confirmed its readiness to halt its military actions in accordance with the Russia-US agreement. Some opposition forces have been sceptical about the ceasefire, but in general have agreed to adhere to it.
According to Russian Defense Ministry spokesman Maj. Gen. Igor Konashenkov, the conflicting Syrian sides that are ready to abide by the ceasefire have contacted the Russian coordination center for reconciliation in Syria's Latakia province over 10 times during the first day it has been in operation.
Russia and the United States can bomb any Syrian militant groups that have expressed their unwillingness to observe the ceasefire, Russian Deputy Foreign Minister Mikhail Bogdanov noted. Washington, in its turn, said it was discussing a so-called Plan B to be implemented in the event that the Syrian ceasefire agreement is violated. Moscow has ruled out any Plan B for Syria.