BEIRUT (Sputnik) – Militant groups in alliance with al-Nusra Front, which is excluded from the ceasefire agreement in force in Syria, have opened fire in civilian areas of Aleppo and Homs, a militia source told RIA Novosti on Saturday.
The ceasefire took effect at midnight on Saturday, Damascus time (22:00 GMT on Friday). It does not apply to terrorist groups operating in the country, such as Islamic State (ISIL) and Nusra Front.
"The militants opened mortar fire in the Sheikh, Ashrafiyeh and Kurdish neighbourhoods of Aleppo. The shelling was conducted from the Bin Ziyad area, which is where groups that do not agree with the truce are located. Shelling from their side started right after midnight," the source said, adding that in Homs "militants opened fire on [Syrian] army positions."
According to the source, the militants are from the Liwa al-Sultan Murad group which has refused to comply with the ceasefire because of its alliance with al-Nusra Front. Liwa al-Sultan Murad controls one of Aleppo's central areas called Bustan al-Pasha.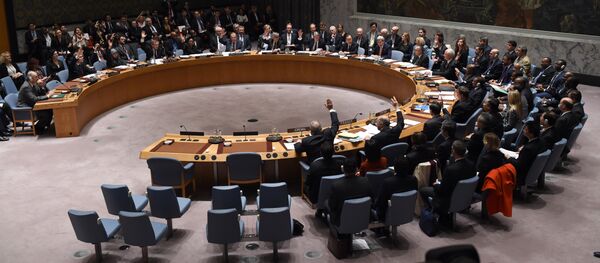 26 February 2016, 21:27 GMT
Russia and the United States reached an agreement on the ceasefire in Syria on February 22. The UN Security Council unanimously adopted a resolution endorsing the Russia-US agreement on the cessation of hostilities in Syria on Friday.
According to UN Special Envoy for Syria Staffan de Mistura, 97 armed groups in Syria, plus the government and all the major regional and international stakeholders have expressed willingness to accept the framework of the cessation of hostilities.
Initial reports right after midnight on Saturday indicated that the situation calmed down around the Syrian capital after the start of the ceasefire, although there was unconfirmed information of potential breaches, de Mistura said at the UN Security Council after the adoption of the Friday resolution.