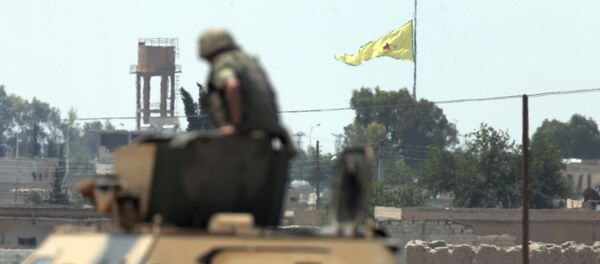 28 February 2016, 09:21 GMT
Russia has received information of an assault on the northern 
Syrian
 town of Tal Abyad from Turkish territory, the head of 
the ceasefire
 monitoring center at the Russian Hmeymim airbase in Latakia said earlier Sunday. 
According to the reports, Kurdish militias have repelled Daesh from Tal Abyad, a town straddling the Syrian-Turkish border.
On Monday, Russia and the United States reached an agreement on the ceasefire in Syria. The ceasefire, which excludes both Daesh and the Nusra Front took effect at midnight on Saturday Damascus time (22:00 GMT on Friday).
Syria has been mired in civil war since 2011, with forces loyal to President Bashar Assad fighting against a number of opposition factions and extremist groups, including Daesh and the Nusra Front, which are prohibited in many countries, including Russia.