WASHINGTON (Sputnik) — US presidential candidates Donald Trump and Hillary Clinton have nearly doubled the lead over their rivals in the respective political party contests to select a presidential nominee a day before voters from a dozen US states head to the polls, a CNN/ORC poll revealed on Monday.
On March 1, the process by the two major political parties in the United States enters a pivotal period as voters from 12 US states hold primary elections known as "Super Tuesday."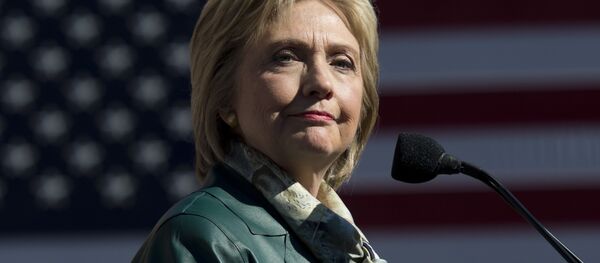 28 February 2016, 00:19 GMT
Ahead of the vote, the poll found that Trump leads the Republican field of candidates with 49 percent of voter support, 33 points higher than his closest rival, Senator Marco Rubio.
Clinton received 55 percent of Democratic voter support, leading her rival Senator Bernie Sanders with 17 points.
Some 68 percent of Republican respondents said they would "definitely support" the candidate they favored, while 32 percent said they "might change their mind." On the Democratic side, 67 percent they would fully support their candidate, while 33 percent said they could be swayed.
Clinton and Trump have been the leading frontrunners in their respective parties' after Trump recently secured his third victory in the state of Nevada and Clinton her second.