The Spanish general election of December 2015 ended without a single party being able to form a majority government on its own and weeks of negotiations have failed to reach agreement on any form of coalition.
Election in Spain on December 10 2015. No Government yet after 10 weeks. How long will it take here? #ge16

— harrymcgee (@harrymcgee) March 1, 2016​
Sanchez — whose party came second in the inconclusive election in December — is Tuesday appealing to the parliament to allow him to form a coalition government with fourth placed liberals, the recently-formed Ciudadanos. However, political commentators in Spain say he is unlikely to succeed.
If this is the case, Spain will be plunged into constitutional chaos because — for the first time since regaining democracy following the death of the dictator General Francisco Franco in 1975. Felipe VI of Spain designated Sanchez to form a government after week of talks, leaving Madrid rudderless. If Sanchez fails to gain a simple majority of lawmakers in a vote Wednesday, Spain will be in a position it has not experienced since Franco's death — and possibly facing another election.
© REUTERS / Juan Medina
Spain's Socialist Party (PSOE) leader Pedro Sanchez poses before a news conference at Parliament in Madrid, Spain, February 2, 2016.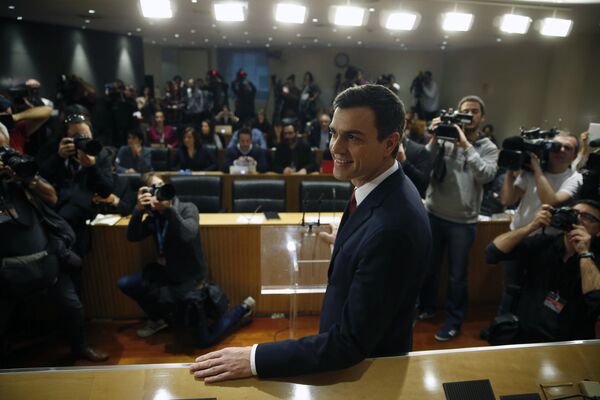 Spain's Socialist Party (PSOE) leader Pedro Sanchez poses before a news conference at Parliament in Madrid, Spain, February 2, 2016.
In order for him to gain that simple majority, he would have to rely on acting Prime Minister Mariano Rajoy's center-right People's Party to abstain on the vote or another recently-formed party, the anti-austerity Podemos party to do the same. Neither has so far showed any inclination to do so.
Rajoy said last week: "You will understand that, as the Popular Party won the most votes in Spain, it would be difficult for me to explain to my party's voters […] that I am supporting somebody who did not win and intends to overthrow everything my government has done and replace it with the PSOE's program."
El of a Problem
For over 30 years, Spanish politics has been dominated by the Socialist (PSOE) and the conservative People's Party. But, since the introduction of harsh austerity measures following the bailout of the country's banks in the wake of the global financial crash of 2008-9, the two main parties have become increasingly unpopular as discontented Spaniards opt for the new parties: Podemos and Ciudadanos.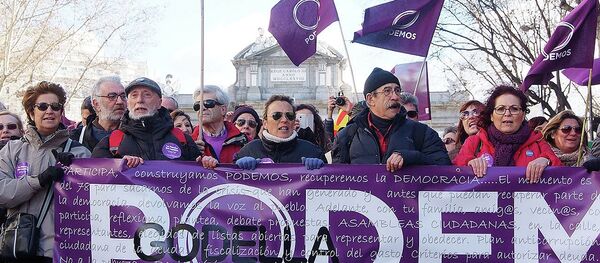 29 February 2016, 15:13 GMT
The issue has been further muddled by the rising calls for independence in both Catalonia and the Basque region, where the main parties are suffering further drops in support, meaning that they lose even more votes share at national elections.
The Spanish economy has taken a huge knock since the bailout and the under-25s unemployment rate has reached 50 percent, with the overall unemployment rate being around 22 percent. Unless Sanchez can get agreement on a coalition — which looks highly unlikely — Spain will be in turmoil, politically, economically and constitutionally. Which does not bode well for the fifth-largest economy in the European Union.