MOSCOW (Sputnik) – Moscow and Jakarta will sign a contract in April for the deliveries of 10 Russian Su-35 Flanker multirole fighter jets to replace Indonesia's fleet of F-5 Tigers, the Jakarta Globe reported Friday.
"We need a squadron of the jets, but for the first phase it will be 10 jets," Indonesian Defense Minister Ryamizard Ryacudu was quoted by the Jakarta Globe as saying.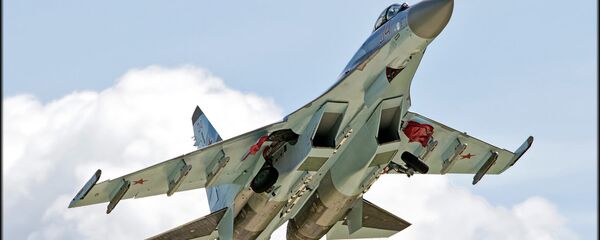 5 February 2016, 10:52 GMT
Indonesia currently has 16 F-5 fighter jets that entered service in 1980.
Four Su-35s have been deployed to Syria amid Moscow's counterterrorism campaign.
The 4++ generation Su-35 is characterized by supermaneuverability and has features of a 5-generation aircraft. The fighter has new avionics, a modern radar and advanced engines. It can accomplish incredible tricks without deceleration and can fly at a speed of 2400 kmph, outpacing all rivals in its class. The warplane is armed with 30mm guns, a huge number of missiles and rockets. 
In January, Russian Minister of Industry and Trade Denis Manturov said he hoped that his country would maintain the turnover with Indonesia in 2016 at around $2 billion.
According to the minister, the bilateral projects between the sides could in the future include building a shipyard in Indonesia. Russia's United Shipbuilding Corporation has been holding talks with Indonesian companies over the issue, Manturov said.
Last month, a source in the Russian defense industry said that Indonesia planned to buy four Beriev Be-200 amphibious planes from Russia, adding that a contract could be sealed shortly.
Indonesian Air Forces' Chief of Staff Agus Supriatna announced last November that Jakarta wanted to add the Russian amphibious planes to its air fleet after two Be-200 aircraft from the Russian Emergencies Ministry helped combat widespread forest fires on the Indonesian islands of Sumatra and Borneo last year.