"Throughout my long career I have been very open and honest about many things," Sharapova said. "I take great responsibility and professionalism in my job every single day, I made a huge mistake. I made a huge mistake, I let my fans down, I let the sport down that I've been playing since the age 4."
Sharapova said she has been taking the drug, meldonium, for ten years. While the drug was previously approved by the International Tennis Federation, a recent rule change has put Sharapova in violation of drug regulations. The meldonium ban took effect on January 1.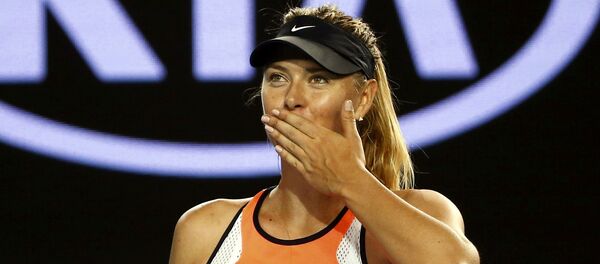 22 January 2016, 14:39 GMT
"I know that with this, I face consequences, and I don't want to end my career this way. I really hope I will be given another chance," she said. "I can't blame anyone for it but myself. At the end of the day, everything you do is about you."
The tennis star took meldonium to treat a number of health issues, including magnesium deficiency, irregular EKG results, and to address her family history of diabetes. Meldonium was one of several prescriptions Sharapova was taking to address these issues.
The announcement comes days after Sharapova announced that she would not be participating in BNP Paribas Open at Indian Wells, due to a left forearm injury.
The 28-year-old is ranked as the 6th best tennis player in the world by the Women's Tennis Association, and ranked number 1 in singles on five separate occasions. Born in Siberia, she has played professionally since 2001, when she was only 14-years-old.
Sharapova is the only Russian to hold the career Grand Slam, and earned Russia a silver medal for women's singles during the 2012 Summer Olympics.