CAIRO (Sputnik) — A spokesman for the Syrian Democratic Forces (SDF), which include mostly Kurdish, as well as Arabian, Armenian and Turkmenian militias, said Tuesday that their group located in country's north had not shelled the territory of Turkey.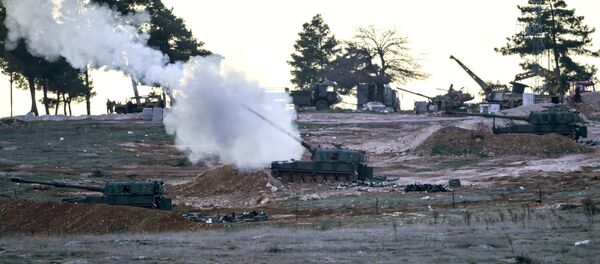 Earlier in the day, Turkish media reported about the
shelling of the southeastern Turkish city of Kilis
from the Syrian territory. The media reported that one was killed and several more were injured in the bombardment.
"There were no shelling from the Syrian territory toward Turkey. We also know anything about retaliatory fire that allegedly took place from the Turkish side," Talal Salou told RIA Novosti.
Syria has been mired in civil war since 2011, with the Syrian military and other government forces loyal to Damascus fighting numerous opposition Islamic factions and terrorist groups. The Kurds have also been fighting against Islamist militants for months.
Earlier this year, Turkey has intensified shelling of the Kurds' positions in Syria, claiming that they have links to the Kurdistan Workers' Party (PKK), a group considered a terrorist organization by Ankara.