"According to an Ipsos survey of TV news consumption conducted in 38 countries in Europe, Asia, North and South Americas, the Middle East and Africa, 35 million people watch us daily. RT successfully competes with long-established TV channels and we have succeeded in making our voice heard the world over," RT Editor-in-Chief Margarita Simonyan said.
Over 36 million people in 10 European countries and 8 million in the US watch RT every week. Over 11 million watch RT in the Middle East and Africa and 7 million in India.
"We conducted this study to have the most correct  information about the RT's news audience in 38 countries and its consumer preferences,primarily regarding regional news broadcasters," Ipsos Connect MENAP President Elie Aoun said.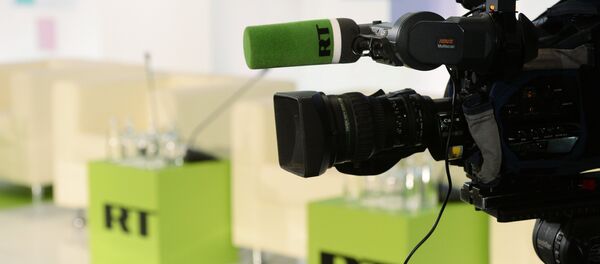 29 February 2016, 15:58 GMT
The
Ipsos
survey was conducted via telephone and online interviews on all five continents and took over three months to complete,
Rossiiskaya Gazeta
reported.
The study was carried out in Russia, Poland, Greece, Ireland, UK, Turkey, Germany, Spain, Italy, France, USA, Canada, Venezuela, Ecuador,
Argentina, Peru, Mexico, Colombia, Chile, India, New Zealand, Australia, Libya, Palestine, Jordan, Qatar, Bahrain, UAE, Lebanon, Tunisia, KSA, Kuwait, Oman, Iraq, Algeria, Egypt, Morocco and Nigeria.
Audience-wise, Russia Today stands out from such authoritative international news providers as Deutsche Welle (50 million viewers) and France 24 (45 million) and is second only to BBC World News, which broadcasts to over 200 countries worldwide (76 million).
RT's online audience is nearing 50 million and the channel tops the list of non-Anglo-Saxon news broadcasters ahead of Al Jazeera, Deutsche Welle and Euronews.
Ipsos is the world's third largest market research agency with offices in 86 countries and a client base of nearly 5,000.
Ipsos is listed on the Paris Stock Exchange.