Last week Macedonia closed its border with Greece, the EU country bearing most of the brunt of the refugee crisis.
The few migrants that managed to make it through to Macedonia were forcibly sent back to Greece. Over 12,000 migrants are now camping out near the Greek side of the border.
In an interview with German newspaper Die Welt, Austrian defense minister Hans Peter Doskozil has now revealed that Vienna is supporting Macedonia's efforts.
"Austria has offered support to Macedonia," he said.
"The Defense Ministry is currently checking whether we can help with technical gear, such as night vision goggles."
Austria has been taking an increasingly hardline stance on the issue of migration and it is at the helm of a coalition of Western Balkan states calling for stronger curbs. These include caps on asylum seekers' entry and the full shutdown of borders.  
The Balkan region is the main route thousands of migrants fleeing conflicts in Middle East and elsewhere are using to enter Europe.
Now, Austria's involvement in policing the Macedonian border  is likely to increase tensions between Vienna and Athens.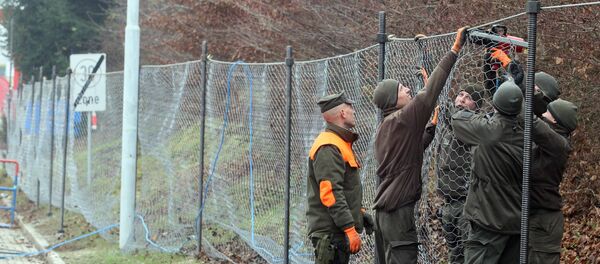 Austria and Greece are already at loggerheads after the former excluded Greece from a Balkan mini-summit on the migration crisis last month.
Greece, which has been at the frontline on the refugee crisis for years, feels like it has been treated unfairly. It also resented the results of the summit itself, which, as it is now in full display, resulted in stranding thousands of migrants in Greece.
Athens described Austria's scheme as having "roots in the 19th century" and subsequently recalled its ambassador.