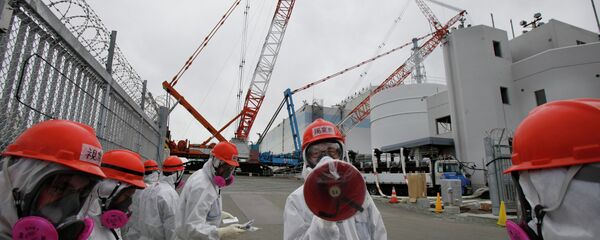 The catastrophe left deep scars amongst Japanese people and there are fears that echoes of the tragedy will be heard for decades or maybe even for a hundred of years to come, as the terrible
consequences
are becoming clearer now.
Hideyuki Ban, representative of the Japanese Information Center for Nuclear Energy, spoke to Sputnik in an interview talking about how profound the damage of nuclear radiation has been to the people, their lives and health.
"In Fukushima Prefecture at the time of the disaster around 360 thousand children under 18 years of age were residing in the area. Right now 166 children have been diagnosed with thyroid cancer (including cases of suspected malignancies). The percentage of thyroid cancer among residents of Fukushima is several times higher than the average percentage of incidences of thyroid cancer in the country," Ban said.
The representative said that his organization studied the Chernobyl nuclear tragedy, and now they fear that the number of people with cancer could increase dramatically in the future.
11 February 2016, 05:42 GMT
After the Fukushima accident the experts said to the local people that it was safe and that the radiation leak was less than 100 millisieverts and that it would do no harm to the citizens. But it now seems that the experts may have underestimated the damage.
"Parents were very concerned about the impact of radiation on children's health, but could not talk openly about their concerns, leading to a stressful situation."
In October 2015, Toshihide Tsuda, professor of Okayama University, speaking to foreign correspondents in Tokyo held a press conference regarding the growth of thyroid cancer in children in Fukushima Prefecture and how the disease was related to radiation as a result of the nuclear accident.
According to Ban, the government does not recognize the link between these two phenomena. After all, it is very inconvenient for Japan's energy policy. The Japanese government, during the rule of the Democratic Party, spoke against increasing nuclear power but the situation changed with the advent of LDPJ, who took the decision to increase the nuclear power in the country.
"In April 2014, the government of Japan approved a method to increase the production of nuclear energy in total by 20-22% by 2030, indicating intention to return to the policy of conservation of nuclear energy as it was previously."
Ban also mentioned that this is happening against the fact that 80% of the population supports the desertion of nuclear power plants altogether.
"Only the government and nuclear industrialists are promoting nuclear power development. Right now we are seeing a distorted situation where the political reality does not reflect the public opinion."
However, implementation of the Basic Energy Development Plan is already facing certain difficulties, as was evidenced by the issuance of a temporary decision to stop the Takahama nuclear power plant on March 9. According to Hideyuki Ban, the energy development plan is likely to be revised in the next year.