MOSCOW (Sputnik) — The Interstate Aviation Committee (IAC) has proceeded with the investigation into the deadly crash of the FlyDubai Boeing 737-800 in Russia's Rostov-on-Don; it will soon be joined by experts from the United Arab Emirates, the United States and France, IAC said in a statement.
"The commission will soon be joined by experts from the United Atrab Emirates — the flag state and the aircraft operator, the United States — the state of design and manufacturer — and France — the aircraft engine designer," the IAC statement said.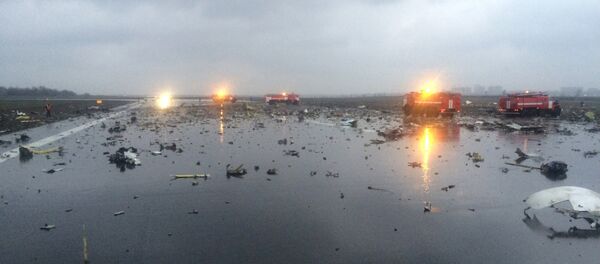 The IAC has set up a commission to investigate the causes of the crash, with its members already sent to the crash site. The commission is headed by IAC Executive Director Viktor Sorochenko.
The Boeing 737-800 plane from Dubai crashed at about 03:50 Moscow time (00:50 GMT) on Saturday after it missed the runway as it attempted to land for second time. Poor weather conditions and human error were named to be potential causes of the accident. A total of 62 people — 55 passengers and 7 crew members — died in the tragedy.