BAGHDAD (Sputnik) — Earlier on Thursday, the Syrian Kurdish Democratic Union Party (PYD) and allied groups in several areas under Kurdish control announced the creation of the so-called Democratic System of Rojava and Northern Syria. Around 200 delegates converged in the town of Rmeilan ahead of the announcement.
"Iraq supports any solution that will be reached by the Syrian delegation at the Geneva talks, any solution that will provide the Syrian people with a dignified and happy life," Hadithi said.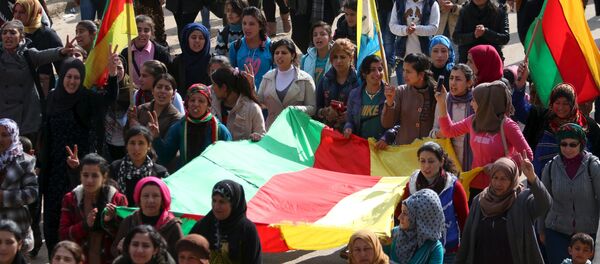 Rojava's proclamation, which has so far been rejected by Damascus, comes amid resumed Syrian peace talks in Geneva. Moscow has stated that unilateral decisions on Syria's future should not be taken in the course of the peace process.
No Kurdish representatives have been invited
to the reconciliation talks, with Turkey strongly opposed to their participation.
Syria has been mired in civil war since March 2011, with government forces loyal to Syrian President Bashar Assad fighting numerous opposition factions and extremist groups. Rojava began to gain autonomy in 2013, when the PYD, and its armed wing, Syrian Kurdish People's Protection Units (YPG), asserted control over the region.