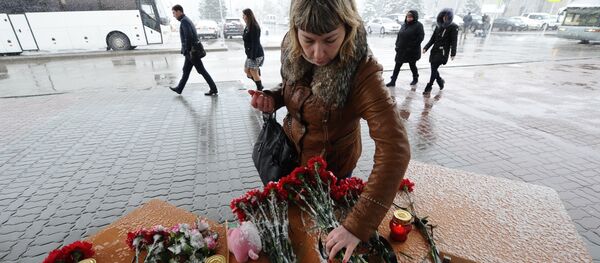 MOSCOW (Sputnik) – The FlyDubai airline, whose plane crashed in Russia last week, is assisting aviation authorities in the ongoing investigation and dealing with its consequences, Russian Transport Minister Maxim Sokolov said Wednesday.
"FlyDubai is constructively cooperating with the aviation authorities and the government of Rostov Region," Sokolov told reporters.
The minister said that compensation payments, which the All-Russian Insurance Association said earlier the carrier began paying, are carried out in accordance with the Montreal Convention governing international air transport rules.
"The company is fully aware of its responsibility for the incident and is assisting in establishing the causes and minimizing, shall we say, the consequences of these tragic events," Sokolov stressed.
Flight FZ981 carrying 62 passengers and crew from Dubai crashed a few hundred feet off the Rostov-on-Don airport runway in the early hours of March 19, killing everyone on board. Preliminary data indicated poor visibility in bad weather conditions as the cause of the tragedy.
Earlier FlyDubai said it would provide payments of $20,000 to families of every passenger killed in the crash to help address immediate needs.