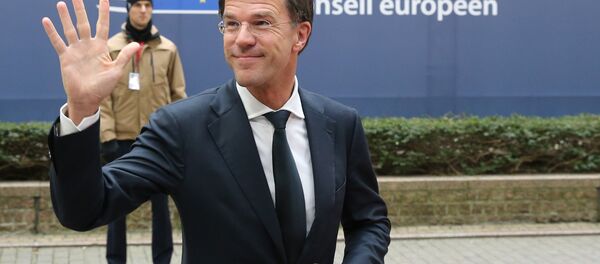 On Wednesday, in an interview for the Dutch news portal NU.nl, Dutch Prime Minister Mark Rutte
suggested
that Ukraine should never be allowed to join the European Union, because the country must have good relations with both Brussels and Moscow, and that would be impossible if it were a member of the EU.
Rutte's remarks came ahead of an advisory referendum in his country on whether to support or reject Ukraine's Association Agreement with the EU, which was signed in 2014, but remains unratified by the Netherlands. The prime minister, for his part, said that he supports association, insisting that it serves in the interest of ensuring "stability on the edge of Europe."
The Dutch prime minister's comments are the latest in a series of recent commentary by top-tier European politicians looking to check Kiev's EU aspirations. Last month, European Commission President Jean-Claude Juncker said that Ukraine would have to wait up to a quarter-century to join the EU and NATO.
Also last month, Brussels suspended the long-promised introduction of a visa-free regime with Ukraine, insisting that Kiev had failed to fulfill its obligations in the fight against corruption. Moreover, an analysis of the economic, free trade agreement portion of the EU-Ukraine Association Agreement, which came into force on January 1, has shown itself to be beneficial only to European businesses looking for access to the Ukrainian market, and hasn't helped Ukrainian companies struggling from the loss of trade ties with Russia.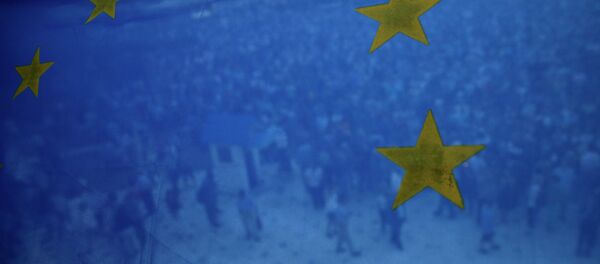 Asked to comment on the Dutch prime minister's remarks, and on the current trend in EU-Ukraine relations, Mikhail Alexandrov, the lead expert at the Moscow State Institute of International Relations' Center for Military-Political Studies,
told
Russia's Svobodnaya Pressa newspaper that the comments were not at all surprising.
"Nobody ever doubted that the EU has no desire to accept Ukraine into its ranks, because they have no desire to carry this dead load on their shoulders. The task of offering Ukraine membership in the EU was never posed," the analyst suggested.
In fact, he explained, "the agreement on European association was only ever intended to torpedo Ukraine's Eurasian integration" with Russia and the other post-Soviet states, including Belarus and Kazakhstan. "The whole 'Eastern Partnership' project was conceived in order to detach post-Soviet states from Russia."
At the same time, Alexandrov scornfully noted, "the present Ukrainian elite, bought and paid for by Western powers, has factually betrayed its own people, luring them with the chimera of European integration into a suicidal undertaking. We can already see what is happening with Ukraine's economy, and the situation will only get worse."
Unfortunately, "neither Western powers nor the local elite, which is engaged in plunder and enriches itself under the Washington and Brussels-assigned 'colonial administration', has any concern about the impoverishment of the Ukrainian people." 
Ultimately, the analyst suggests, "if its comprador-like character finally causes a response from Ukrainian society [i.e. a revolution], this elite, with the blessing of their patrons, will promptly relocate to their pre-prepared 'reserve airfields' in the West."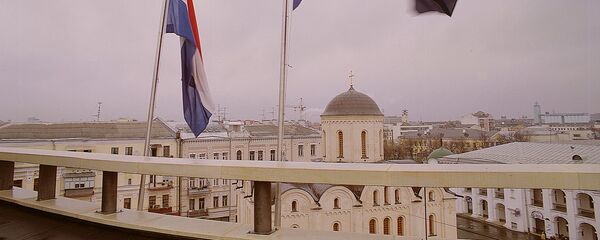 For his part, Alexandrov believes that the upcoming April 6 referendum in the Netherlands is significant precisely because it could serve as an indicator from ordinary Europeans on whether the policies pursued by European political elites toward Russia and other post-Soviet countries is correct.
"It's worth noting that the referendum in the Netherlands is not about Ukraine's membership in the EU, but about its quasi-integration. [Effectively,] the citizens of this country will be asked whether they are ready to support Washington and Brussels' policy of sabotage in relation to Russia."
If the Dutch people vote against association, "it would be a telling indicator for Moscow that Europeans themselves are not disposed in favor of a confrontation with Russia." At the same time, "as far as Mark Rutte's anti-Russian cabinet is concerned, I have no doubt that it will continue to push Ukrainian European association," Alexandrov concluded.