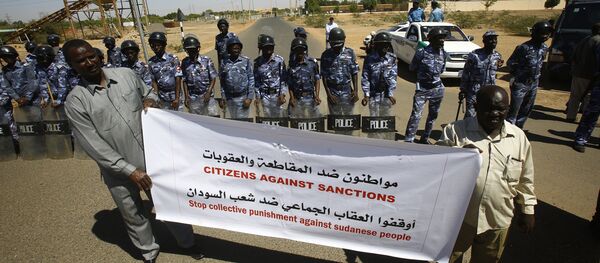 KHARTOUM (Sputnik)
–
Sudan does not recognize the International Criminal Court's (ICC) 2009 unprecedented arrest warrant for its leader on counts of genocide and war crimes in the 2003 War in Darfur, President Omar Bashir said Wednesday.
"We in Sudan, for example, as in the United States, do not recognize the work of this selective court. Its representatives should come to many countries, starting with those involved in the colonization, occupation, and organizing the massacre of Africans, third world residents, Iraq and so on," Bashir told RIA Novosti.
He noted that the ICC's decisions do not reflect on the Sudanese authorities' international activities.
"We have never stopped traveling, we adopt all decisions and visit both countries that recognize the ICC and those that do not recognize it," Bashir added.
Conflict between different communities in Darfur, a region in western Sudan, began in the 1980s and escalated dramatically in 2003, when rebel groups launched a campaign to topple Bashir's government.
The United Nations estimates that as many as 300,000 people have been killed in the conflict and another 2.5 million are displaced.
In 2009, ICC indicted  Bashir, the first sitting president to be accused by The Hague, for directing a campaign of mass killing, rape, and pillage against civilians in Darfur.