DAMASCUS (Sputnik) – Victims of a chemical attack carried out in the south of Syria's Aleppo Governorate show all signs of chlorine poisoning, a doctor from a Red Crescent hospital in Aleppo said.
Earlier, a spokesman for Syrian Kurds confirmed in an interview with Sputnik that some cases of gas poisoning had been registered among the civilian population and Kurdish militias following the attack.
"The victims brought to the hospital are suffering from spasms and convulsions because of poisoning by gases banned all over the world, such as chlorine," the Red Crescent doctor said.
The Kurdish People's Protection Units (YPG) have confirmed to RIA Novosti that a gas attack was carried out in the city of Aleppo, blaming it on "Islamist militants acting under the protection of Turkey." YPG vowed to inform both Russian and US ceasefire monitoring centers in Syria of the incident.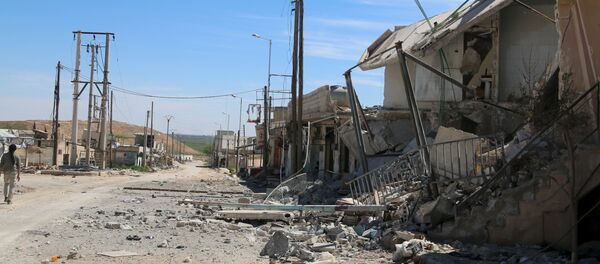 Earlier this week, a military source told RIA Novosti that militants from the Islamic State (ISIL) radical group used poisonous gas in an attack against a Syrian army airbase in the Deir ez-Zor Governorate.
Syria has been in a state of civil war since 2011, with the army loyal to President Bashar Assad fighting several opposition factions and militant groups, such as ISIL, also known as Daesh, which banned in a range of countries including Russia. A US-Russia-brokered ceasefire came into force across Syria on February 27.
In August 2013, an unprecedented chemical weapons attack which killed more than 1,300 civilians took place in Ghouta, a suburb of the Syrian capital Damascus. Militants and Assad's government blamed each other for the attack.
A mission to eliminate Syria's chemical arsenal was announced after the deadly gas attack. Moscow urged Damascus to place its chemical weapons under international control, and Syria agreed to the Russian initiative.
In August 2015, the UN Security Council authorized the launch of a Joint Investigative Mechanism (JIM) to identify people involved in the use of chemical weapons in Syria.