ANKARA (Sputnik) — Baku shows restraint in regard to provocations from Armenia in the Nagorno-Karabakh conflict, Turkish Foreign Minister Mevlut Cavusoglu said.
"Twenty percent of the Azerbaijani territory is occupied, it was assessed by many international organizations, including the United Nations and PACE. However, Armenia continues provocations against Azerbaijan… Azerbaijan in this matter is acting patiently," Cavusoglu told the Turkish A Haber broadcaster in an interview.
The top Turkish diplomat added that the OSCE Minsk Group, which had been mediating the Nagorno-Karabakh conflict settlement since 1992, failed to meet the international community's expectations, as the issue could have been resolved within a week if mediators showed any interest.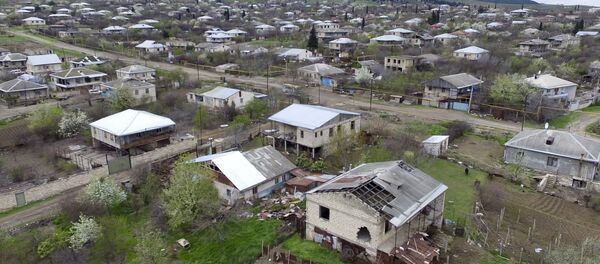 Ankara also expressed hope that Baku would make required steps toward the peaceful settlement of the Nagorno-Karabakh issue.
The violence in Nagorno-Karabakh, a breakaway region of Azerbaijan with a predominantly Armenian population, escalated on April 2. Baku and Yerevan have accused each other of provoking hostilities.
Armenians and Azerbaijanis both ceased fire Tuesday at noon on the frontline in the disputed Nagorno-Karabakh region, following five days of clashes that led to fatal casualties on both sides.
On Monday, Turkish President Recep Tayyip Erdogan said his country supported Azerbaijan in the Nagorno-Karabakh conflict.