WASHINGTON (Sputnik) — Members of the US-led coalition against Daesh should consider providing additional aid to the Kurdish Peshmerga fighters following the US announcement of a new assistance package, Kurdistan Region Security Council Chancellor Masrour Barzani said in a Twitter message on Monday.
"This war is a shared responsibility, and I hope other members of the global coalition will consider increasing their aid to Kurdistan," Barzani tweeted.
This war is a shared responsibility, and I hope other members of the Global Coalition will consider increasing their aid to #Kurdistan —mb.

— Masrour Barzani (@masrour_barzani) 18 апреля 2016 г.
​Earlier on Monday, US Secretary of Defense Ashton Carter announced that the United States will provide Kurdish Peshmerga fighters in Iraq with up to $415 million in financial assistance to support the fight against Daesh.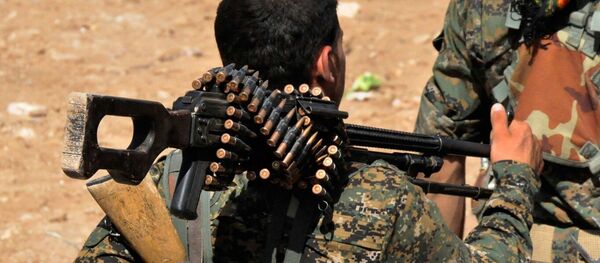 "I welcome the announcement by Secretary Ashton Carter to give financial aid to our Peshmerga and increase military engagement in war on ISIL [Islamic State]," Barzani stated.
The United States will also deploy additional 217 troops to Iraq to assist the local forces in the fight to retake the city of Mosul from the terrorist group, according to the US Department of Defense.
The US-led coalition of more than 60 nations has been conducting airstrikes in Syria and Iraq against Daesh since the summer 2014. However, coalition leaders have been reluctant to indicate a time-frame for the liberation of Mosul.
Over the past year, the coalition has reclaimed a number of cities around Mosul in a bid to choke off outside support to Daesh.