GENEVA (Sputnik) — Earlier in the day, Sputnik learned from a source close to the HNC that the delegation had split over the issue of the necessity to continue the current round of intra-Syrian talks in Geneva. Part of the delegation insists on the "uselessness of talks" while fighting in Syria continues, which they blame the Syrian government for. The other side says these talks are the only chance to move toward settlement, and even favours cooperation with the Moscow-Cairo group.
"I have never heard of it, it is not true," al-Zoubi said, answering the question on whether the allegations were true.
"The delegation was united in our decision to freeze the participation in the talks. Everyone had the same wish," al-Zoubi said.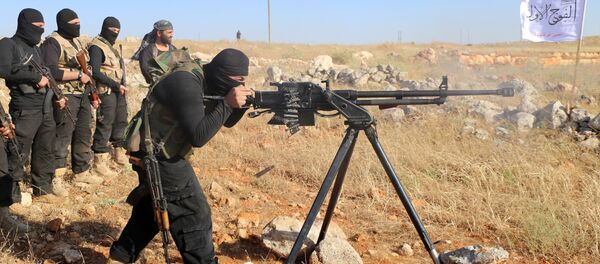 Nevertheless, the split is already obvious, as part of the HNC delegation left Geneva on Tuesday and some are leaving later on Wednesday, including HNC head Riyad Hijab. Other members, meanwhile, are staying in Geneva
to discuss the issues of ceasefire
with UN committees and are even planning to hold a new meeting at the UN Palais on Friday.
Asaad al-Zoubi, according to Sputnik sources, had a fierce disagreement with Salem al-Meslet, official HNC representative, who is staying in Geneva and is willing to continue dialogue.
On Monday, HNC delegation announced they are suspending their participation in the talks over the issue of continuous fire in Syria.
Damascus delegation told Sputnik this decision was a pretext for HNC not to engage in a serious discussion of the political settlement.