YEREVAN (Sputnik) – About 200 demonstrators marched in the center of the Armenian capital to the buildings of the Foreign Ministry and the Russian Embassy.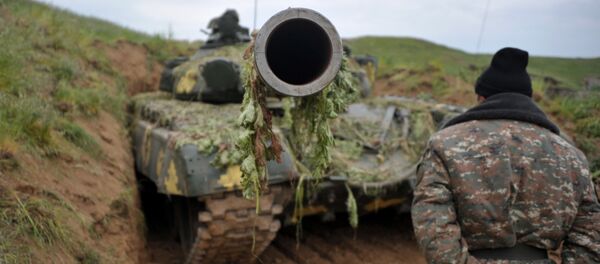 Participants of the rally, organized in connection with Russian Foreign Minister Sergei Lavrov's visit to Armenia, demanded recognition of NKR's independence "in accordance with the international law." The demonstrators were holding photographs of the victims of the recent violence escalation in the mountainous region.
The violence in Azerbaijan's breakaway region, mostly populated by Armenians, escalated early this month. Baku and Yerevan have accused each other of provoking hostilities. Azerbaijan and NKR agreed to a ceasefire on April 5, following days of clashes that led to numerous casualties on both sides.
The Nagorno-Karabakh conflict began in 1988, when the autonomous region sought to secede from the Azerbaijan Soviet Socialist Republic. The region proclaimed independence when the Soviet Union collapsed in 1991. The sedition triggered a war that lasted until a Russia-brokered ceasefire was signed in 1994.