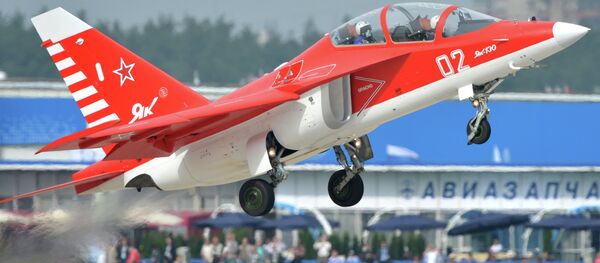 MOSCOW (Sputnik) – Viktor Kladov, head of the International Cooperation Department of Russia's state technology corporation Rostec, told RIA Novosti last week that Myanmar and a range of Latin American and North African states expressed interest in the Yak-130 aircraft.
"The plan provides for the transfer of three aircraft to them [Myanmar] in 2016," one of the Russian Kommersant daily's two sources told the publication.
Additionally, Russian experts reportedly plan to set up a specialized combat flight simulator in Myanmar before the end of 2017.
The Defense Ministry of Myanmar signed its first Yak-130 purchase contract in June 2015, three years after the Southeast Asian republic voiced initial interest in the fighter trainer, the outlet says.
The Yak-130 lead-in fighter trainer is the world's only training aircraft with the aerodynamic configuration and subsonic flight performance characteristics of modern jet fighters. The two-seat reconnaissance and light attack jet has a combat load of up to 3,000 kilograms (about 6,600 pounds).